The sleuth leaves the city behind to tackle a small-town family's misery in 'calamity town'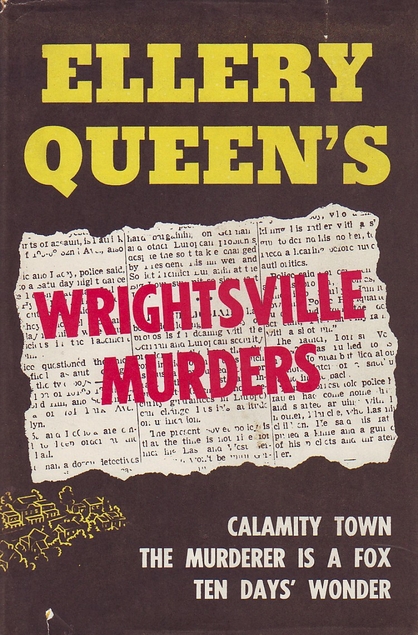 My mom had the Wrightsville Murders omnibus pictured at left on our bookshelves when I was growing up. It was a big heavy hardcover book containing three full-length Ellery Queen novels — Calamity Town, Crazy Like a Fox, and Ten Days' Wonder — that I devoured starting in about sixth grade (40-some years ago). And I knew I had re-read it more than once, but I don't think I fully grasped how often I must have read and re-read it until I started my most recent read of the first book in the omnibus, Calamity Town.
On every page — nearly in every paragraph — there was a phrase or sentence or scrap of dialogue that triggered the strongest sense of dejà vu. It wasn't so much that I remember the outlines of the story or whodunit (I actually didn't) but that I remembered actual words and phrases! I've never had that happen before and it was a pleasingly disconcerting sensation.
Fortunately the vertigo wore off after Part I (which makes me wonder if I read and re-read just the first section over and over? I wish I could go back in time to find out, but then again that would mean living through junior high and high school again and no thank you) and I could just enjoy the book for what it is, which is a splendidly plotted mystery full of appealing characters put into realistic situations and left to find their way out.
A brief plot overview: It's 1940, and famous writer Ellery Queen has traveled to Wrightsville, a small town in upstate New York, in search of "color" for his next mystery novel. While there, he is befriended by the Wright family, descendants of the town's founder. That leaves him in the perfect place to observe as one misadventure after another befalls the family, culminating in the requisite murder.
Perhaps because they take Ellery out of his usual New York City locale, the Wrightsville novels have always had an extra appeal for me. Whereas the "regular" Queen mysteries set in NYC seem to rely on intricately formed plots with clues and red herrings scattered about, in Wrightsville the characters come to life fully formed and breathing. Incredibly for a novel written in the 1940s, there is virtually no offensive racial stereotyping or cheap laughs gained at the expense of the "hicks" that populate Wrightsville. Ellery does not condescend to his hosts, not even the Town Soak who is prone to declaiming Shakespeare from his drunken perch at the base of the founder's statue in the town square. It feels so much like a real town that I am half convinced I've been there before.
I guess the best thing I can say about this novel is that now I remember why I read and re-read it over and over all those years ago. It's a magnificent piece of scene-setting and characterization, with a mystery that more than lives up to its surrounding structure. I have a feeling I won't wait another 30 years before reading this one again …