From the start, he needed to overcome internal and external opposition by willful acts of self-definition, the ambitious farm boy autodidact becoming a splitter of words and ideas rather than fence rails.

Fred Kaplan, Lincoln: The Biography of a Writer
I'm having trouble writing this review because I have so much to say. I tried channeling the 16th President by asking myself WWAW (What Would Abe Write)? That didn't help much, so I'll just boil it down to one sentence: This book (published by HarperCollins in 2008) is fantastic.
OK, maybe a few more sentences. As the title declares, Kaplan examines Lincoln's life through the prism of the writings he left behind. Those writings include not only published essays and speeches but also letters and fragments of letters he wrote to friends. Kaplan begins in Lincoln's childhood, looking at the books that we know young Abe had access to at home, especially once his stepmother joined the household. Some of them are familiar and unsurprising — Shakespeare, the Bible — and others raised my eyebrows. Lord Byron was a favorite source of inspiration for Lincoln, as was … Scottish poet Robert Burns?! Apparently Lincoln often quoted entire poems or long passages of Burns' poems from memory, even the saucy bits.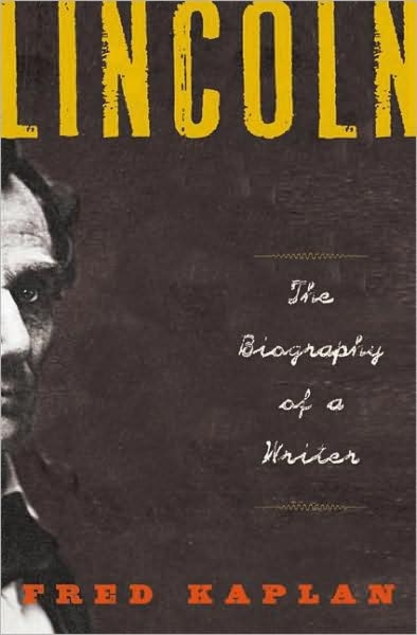 It was fascinating to learn that Lincoln wrote on all sorts of topics, not just political events and issues of the day. Following a trip in 1844 to his childhood home in Indiana, he wrote what appears to have been intended as a four-canto poem in the tradition of Thomas Gray, whose "Elegy Written in a Country Churchyard" was a favorite of Lincoln. Kaplan also cites influences from Wordsworth, Burns and Chaucer in the poem, only three cantos of which have survived. The excerpts that Kaplan quotes are melancholic and humorous in turn, reflecting on memories that gave him both pain and pleasure.
Lincoln also used writing as a way to explore his thinking on subjects of the day. He wrote and re-wrote, constantly refining his thoughts. He used writing as a way to help him clarify his own beliefs and political opinions. And he seldom spoke extemporaneously — at a minimum he worked from a set of notes for each speech he gave, in order to ensure that he could lay out his thoughts and positions in a coherent way. Kaplan describes Lincoln's writing in a speech given to a temperance society as "a prose so lucid to read it is like looking a hundred feet through clear water."
Kaplan expends most of his energy and analysis to the years before Lincoln became president; in an eight-chapter book the presidency is entirely confined to the final chapter. That's one reason I can't view this book as the end-all and be-all of exploring Lincoln's life or his genius for language. The other reason is that while partial quotations of Lincoln's writing to illustrate specific points are plentiful, Kaplan does not include any speech or essay in its entirety to allow us to fully absorb Lincoln's genius. Perhaps there are limitations on the amount of text that can legally be quoted? At any rate, it was a loss I felt keenly.
I probably don't need to say that I highly recommend this book. While there's a fair amount of detail about Lincoln's life beyond his writing, some readers will find value in also reading a more comprehensive biography, especially one that focuses on his presidency. As for me, I now feel a great deal of affinity for the man who declared:
Writing — the art of communicating thoughts to the mind, through the eye — is the great invention of the world. Great in the astonishing range of analysis and combination which necessarily underlies the most crude and general conception of it — great, very great in enabling us to converse with the dead, the absent, and the unborn, at all distances of time and of space; and great, not only in its direct benefits, but greatest help, to all other inventions. … Its utility may be conceived by the reflection that to it we owe everything which distinguishes us from savages. Take it from us, and the Bible, all history, all science, all government, all commerce, and nearly all social intercourse go with it.

Abraham Lincoln